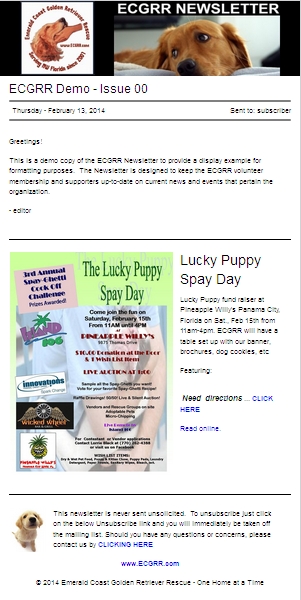 The ECGRR Newsletter is a great way to stay up to date on the happenings of the Emerald Coast Golden Retriever Rescue.
You'll get updates relating to ECGRR sent right to your email inbox – perfect for keeping up on our events and activities.
BONUS: you'll also receive an email notification when we post a new ECGRR "furry kid" is available for adoption!
*We DO NOT sell/trade/share subscriber email addresses to 3rd parties.
Be sure that your email settings allow for receiving email from newsletter@ecgrr.com. 
The following providers have email services that in the past, have blocked our newsletter and/or any email we send out.  This is beyond our control:
If you wish to receive any mailing from us you we suggest you use another email address/provider that is not hosted by that company.